Lodge St John Fisherrow No. 112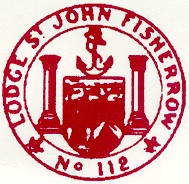 7/9 Balcarres Road, Musselburgh, Midlothian.
EH21 7SD Tel: 0131 665 2030
---
Master:
Bro.
Tom A. Edger
Secretary:
Bro.
Andrew Raeburn P.M.
Tel: (44) 0131 665 5168
Meetings: 1st and 3rd Wednesday from 3rd Wednesday - September to 1st Wednesday - May, at 7.00pm.
---
Constituted 15th March 1768
Brief History of Lodge St John
Lodge St John Fisherrow was Chartered on 15th March 1768. The original charter is displayed in the Temple today and was signed by Brother The Right Honourable, 8th Earl of Dalhousie, Most Worshipful Grand Master Mason.

At this time there were two other lodges active in Musselburgh, Lodge Aitcheson Haven, and Musselburgh Kilwinning. Lodge Aitcheson Haven, in existence since 1555 had the oldest known minute book, now displayed in Grand Lodge.

The lodge is unique in that we open in the third degree and all present are tested before the lodge is opened. Our ritual is also unique, being an American ritual used only by a few lodges in Scotland.

Should you require further information please contact Bro. Andrew Raeburn P.M. at:

Email
More information on Lodge St John Fisherrow
....