Lodge Thorntree No. 1038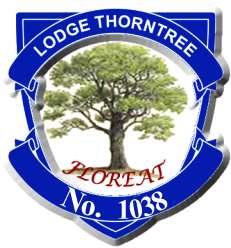 236a High Street, Prestonpans, Eastlothian.
EH32 9BU Tel: 01875 813958
---
Master:
Bro.
Mark Howie
Secretary:
Bro.
Alan Owenson
Tel: (44) 01875 812 455
Meetings: 2nd and 4th Thursday - September to April, special meetings 3rd Firday. at 7pm.
---
Constituted 6th February 1908
Brief History of Lodge Thorntree
The name Thorntree comes from a tree that was standing during the Battle of Prestonpans in the year 1745 and was used as a focal point. The Lodge has `Working Tools` made from the timbers of the tree when it was cut down.

Our meetings are held within our own premises which we acquired in 1950, before that our meetings were held in various buildings in the town of Prestonpans.

During our symbolic formation, The Provincial Grand Lodge of East Lothian did not function, therefor the Provincial Master of Midlothian and his Office Bearers formed the Lodge. We have remained within the Provincial of Midlothian ever since.



Should you require further information please contact Bro. Alan Owenson. at:

Email
....