Lodge Colinton & Currie No. 1029
Children present cheque to CHAS

Ellie Millar age 11 and Ethan Millar age 7 the Children of Roddie a member of Lodge Colinton and Currie held a sale in the grassy area in front of their house at Pilgrims Hill Linlithgow to raise money for the Children's Hospice. They sold books, toys and cakes and raised the magnificent sum of £200. The Members of Lodge Colinton and Currie were so imprest by their achievement they agreed to double the amount that the children had raised.

The photograph below shows the Ethan and Ellie presenting the cheque to Margaret Langland of CHAS on Sunday 22nd of March 2015 in the Lodge premises. Also in the photograph are Roddie Millar and David Healy (the Master of the Lodge). Ellie and Ethan were surprised to have been given CHAS "T" shirts and Easter Eggs in appreciation for all their hard work from Margaret Langland on behalf of CHAS.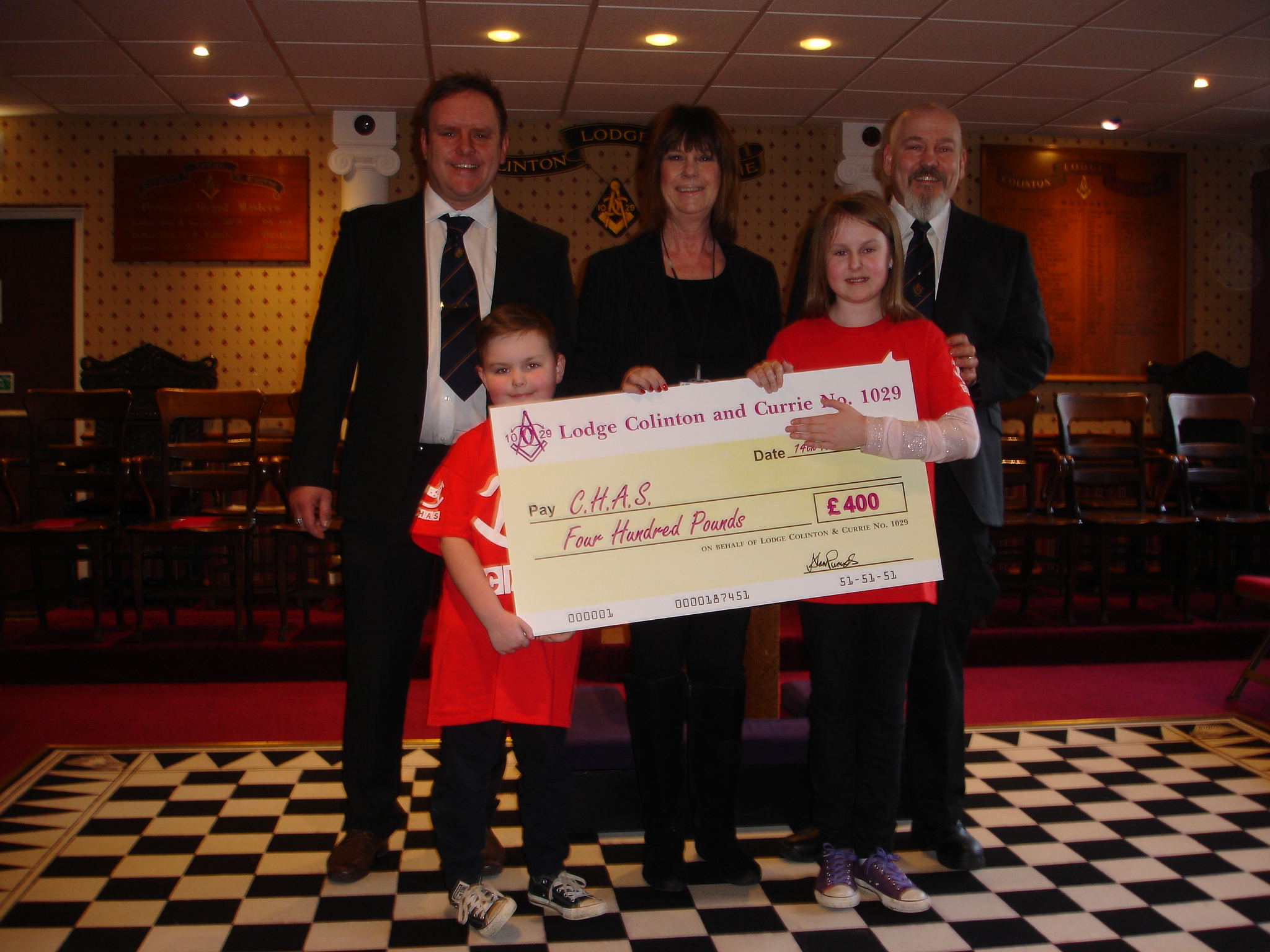 Roddie Millar, Ethan, Margaret Langland CHAS, Ellie
and David Healy Master of Lodge Colinton and Currie
Colinton and Currie Charitable Donation
to Boys Brigade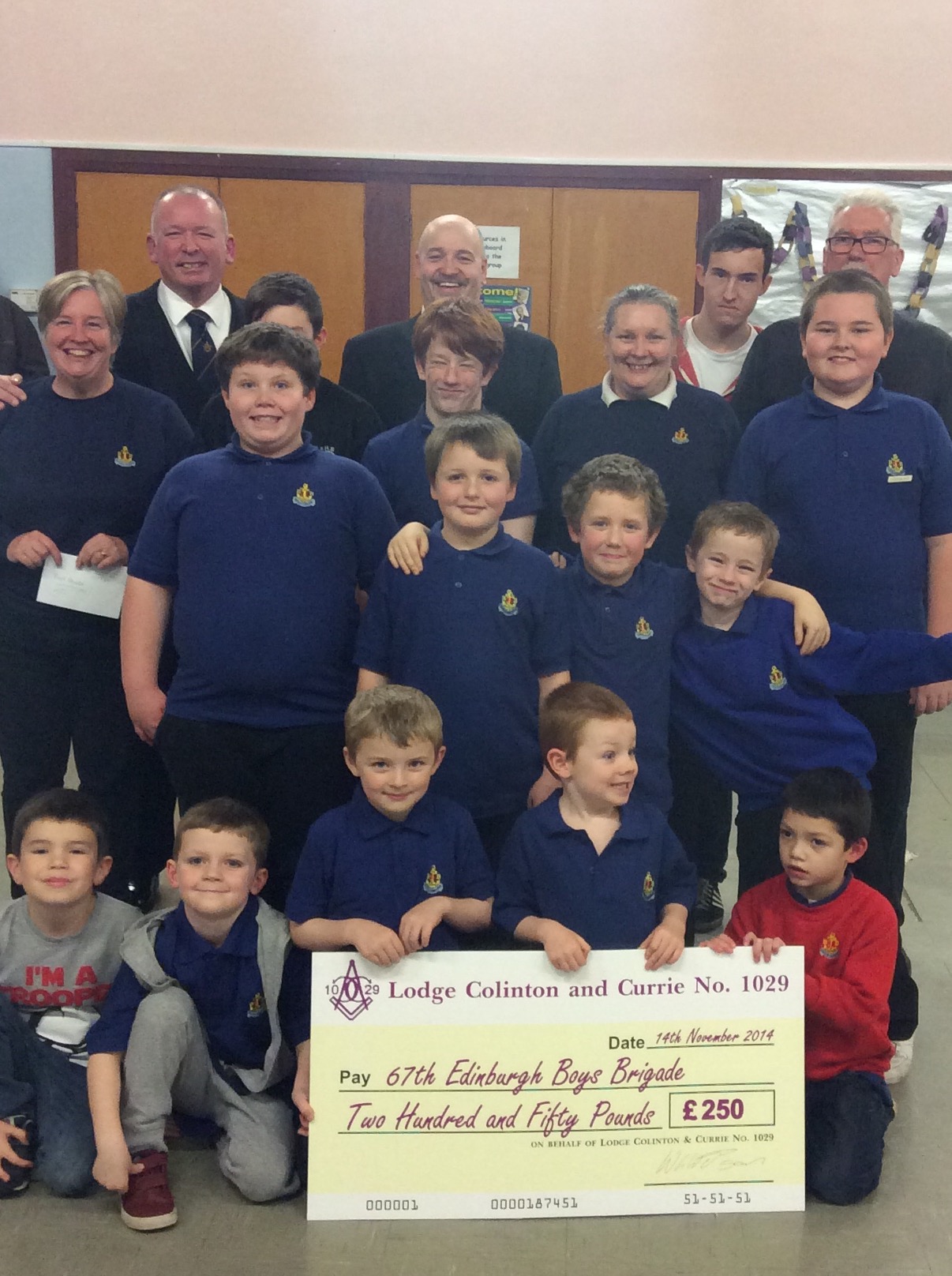 The above photograph of the Colinton and Currie Charitable Donation to Boys Brigades hows the RWM Bro., Liam Watson assisted by Bro., Douglas Munro PM with the boys and leaders of the 67th Edinburgh Company of the Boys Brigade after they present a cheque for £250 on behalf of the Lodge brethren to assist the company.
Honorary Members Degree held
on the 26th November 2014
At Liam Watson RWM last or "Greetin" meeting he arrange an Honorary Members Degree, The degree was a Second or Fellow of Craft degree. The photograph of the worthy team below show our RWM who presided over the Honorary Members along with the newly made Fellow of Craft Brother Darren Shishondia.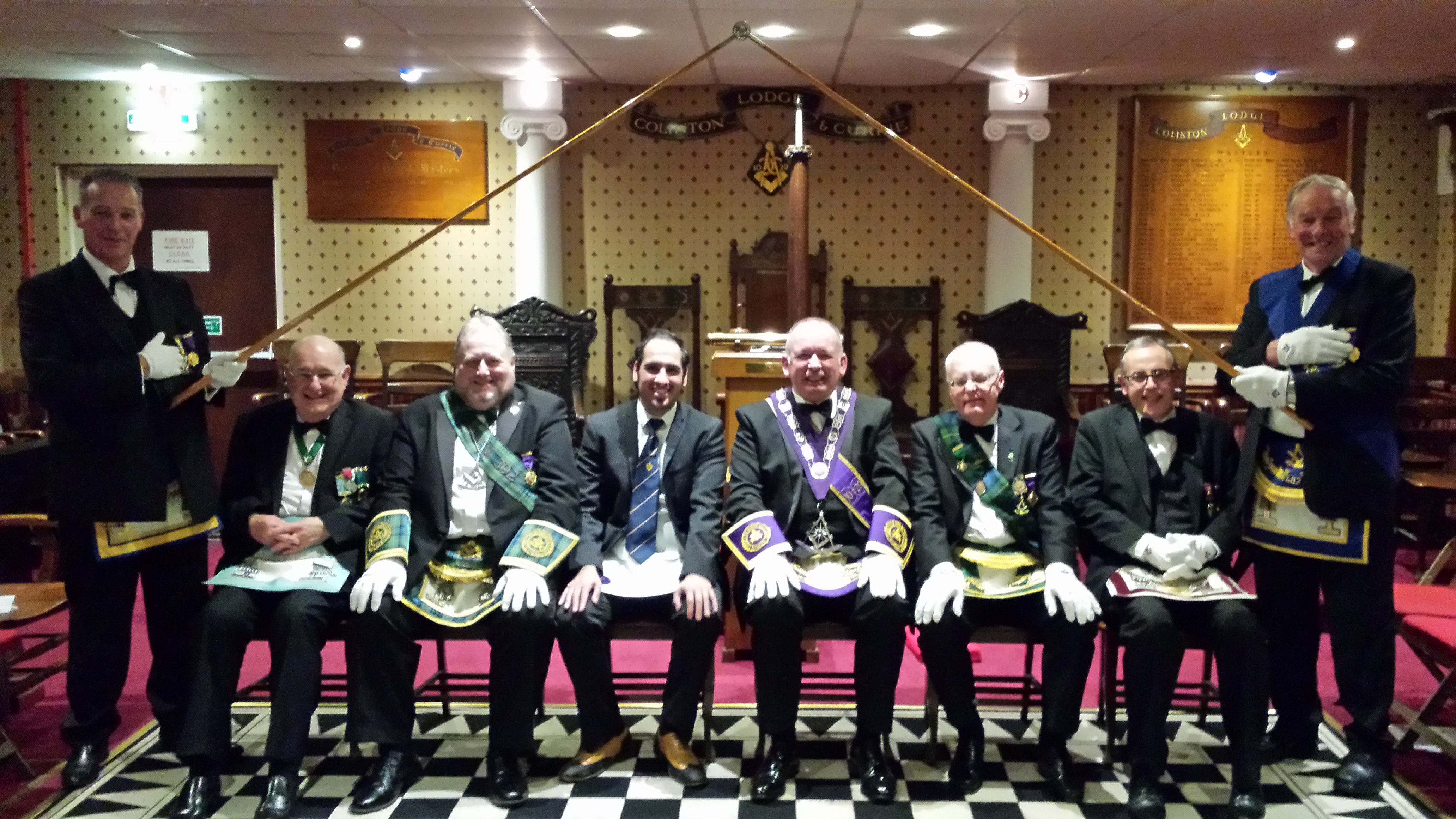 The photograph shows from the left Bro., Craig Gordon PM Lodge Dalhousie Bonnyrigg No 720 Bro., Finlay Nicol PM Lodge Liberton No 1201, Bro John Brash RWM The Caledonian Lodge No 392 Bro. Darren Shishondia, Bro., Liam Watson our RWM, Bro., Ronnie Moyes The Caledonian Lodge No 392, Bro Jim Pryde Lodge Dalkeith Kilwinning No 10 and Bro Jimmy Stewart Lodge Kirkliston Maitland No 482.